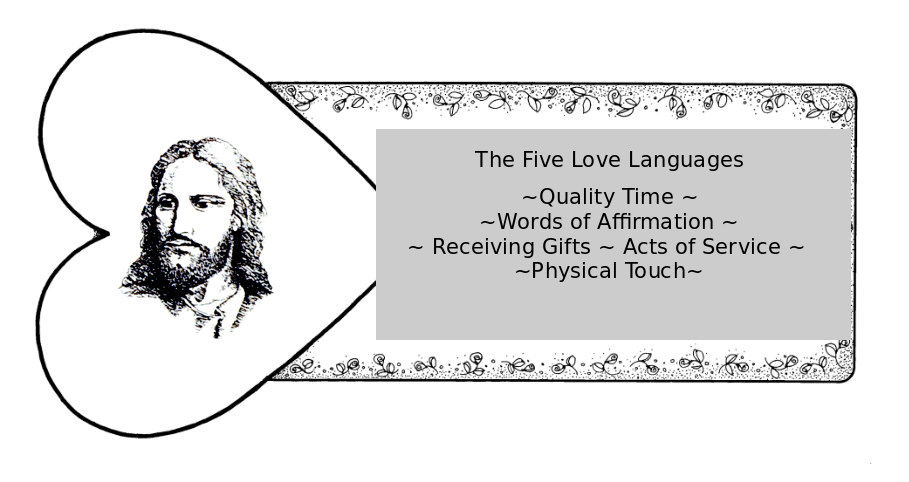 We used clip art from your site for the flyers and magnets.
I've included the Examples of the Savior Use of the Five Love Lanuages as well as the magnet and flyer pages here. If you could add them to the general description I would appreciated it.
Your site is a great resource.  Thank you for your efforts.
—
Examples of the Savior's Use of The Five Love Languages
"As I have Loved you- love one another" John 15:12
Words of Affirmation
John 16:33 These things I have spoken unto you, that in me ye might have peace…
Luke 8:46-48 And Jesus said, Somebody hath touched me: for I perceive that virtue is gone out of me.
And when the woman saw that she was not hid, she came trembling, and falling down before him, she declared unto him before all the people for what cause she had touched him, and how she was healed immediately.
And he said unto her, Daughter, be of good comfort: thy faith hath made thee whole; go in peace.
John 15:15 Henceforth I call you not servants; for the servant knoweth not what his lord doeth: but I have called you friends; for all things that I have heard of my Father I have made known unto you.
Luke 11:9&10  And I say unto you, Ask, and it shall be given you; seek, and ye shall find; knock, and it shall be opened unto you.
For every one that asketh receiveth; and he that seeketh findeth; and to him that knocketh it shall be opened.
Luke 7:44-48 And he turned to the woman, and said unto Simon, Seest thou this woman? I entered into thine house, thou gavest me no water for my feet: but she hath washed my feet with tears, and wiped them with the hairs of her head.
Thou gavest me no kiss: but this woman since the time I came in hath not ceased to kiss my feet.
My head with oil thou didst not anoint: but this woman hath anointed my feet with ointment.
Wherefore I say unto thee, Her sins, which are many, are forgiven; for she loved much: but to whom little is forgiven, the same loveth little.
And he said unto her, Thy sins are forgiven… Thy faith hath saved thee; go in peace.
Quality Time
Matthew 26:19&20
19 And the disciples did as Jesus had appointed them; and they made ready the passover.
20 Now when the even was come, he sat down with the twelve.
Matthew 15: 29&30
29 And Jesus departed from thence, and came nigh unto the sea of Galilee; and went up into a mountain, and sat down there.
30 And great multitudes came unto him, having with them those that were lame, blind, dumb, maimed, and many others, and cast them down at Jesus' feet; and he healed them:
John 4:40 So when the Samaritans were come unto him, they besought him that he would tarry with them: and he abode there two days.
The Samarians and the Woman at the Well ~ John 4:7-28&30,
7 There cometh a woman of Samaria to draw water: Jesus saith unto her, Give me to drink. 8 (For his disciples were gone away unto the city to buy meat.)
9 Then saith the woman of Samaria unto him, How is it that thou, being a Jew, askest drink of me, which am a woman of Samaria? for the Jews have no dealings with the Samaritans.
10 Jesus answered and said unto her, If thou knewest the gift of God, and who it is that saith to thee, Give me to drink; thou wouldest have asked of him, and he would have given thee living water.
11 The woman saith unto him, Sir, thou hast nothing to draw with, and the well is deep: from whence then hast thou that living water?
12 Art thou greater than our father Jacob, which gave us the well, and drank thereof himself, and his children, and his cattle?
13 Jesus answered and said unto her, Whosoever drinketh of this water shall thirst again:
14 But whosoever drinketh of the water that I shall give him shall never thirst; but the water that I shall give him shall be in him a well of water springing up into everlasting life.
15 The woman saith unto him, Sir, give me this water, that I thirst not, neither come hither to draw.
16 Jesus saith unto her, Go, call thy husband, and come hither.
17 The woman answered and said, I have no husband. Jesus said unto her, Thou hast well said, I have no husband:
18 For thou hast had five husbands; and he whom thou now hast is not thy husband: in that saidst thou truly.
19 The woman saith unto him, Sir, I perceive that thou art a prophet.
20 Our fathers worshipped in this mountain; and ye say, that in Jerusalem is the place where men ought to worship.
21 Jesus saith unto her, Woman, believe me, the hour cometh, when ye shall neither in this mountain, nor yet at Jerusalem, worship the Father.
22 Ye worship ye know not what: we know what we worship: for salvation is of the Jews.
23 But the hour cometh, and now is, when the true worshippers shall worship the Father in spirit and in truth: for the Father seeketh such to worship him.
24 God is a Spirit: and they that worship him must worship him in spirit and in truth.
25 The woman saith unto him, I know that Messias cometh, which is called Christ: when he is come, he will tell us all things.
26 Jesus saith unto her, I that speak unto thee am he….
28 The woman then left her waterpot, and went her way into the city, …
39 And many of the Samaritans of that city believed on him for the saying of the woman…
Acts of Service
John 13:4&5
4 He riseth from supper, and laid aside his garments; and took a towel, and girded himself.
5 After that he poureth water into a bason, and began to wash the disciples' feet, and to wipe them with the towel wherewith he was girded.
Mark 6: 41&42
41 And when he had taken the five loaves and the two fishes, he looked up to heaven, and blessed, and brake the loaves, and gave them to his disciples to set before them; and the two fishes divided he among them all.
42 And they did all eat, and were filled.
 Matt. 4: 23-24
23 And Jesus went about all Galilee, teaching in their synagogues, and preaching the gospel of the kingdom, and healing all manner of sickness and all manner of disease among the people.
24 And his fame went throughout all Syria: and they brought unto him all sick people that were taken with divers diseases and torments, and those which were possessed with devils, and those which were lunatick, and those that had the palsy; and he healed them.
Gifts ~ Including Gifts of Self or Presence
John 2:6-10
6 And there were set there six waterpots of stone, after the manner of the purifying of the Jews, containing two or three firkins apiece.
7 Jesus saith unto them, Fill the waterpots with water. And they filled them up to the brim.
8 And he saith unto them, Draw out now, and bear unto the governor of the feast. And they bare it.
9 When the ruler of the feast had tasted the water that was made wine, and knew not whence it was: (but the servants which drew the water knew;) the governor of the feast called the bridegroom,
10 And saith unto him, Every man at the beginning doth set forth good wine; and when men have well drunk, then that which is worse: but thou hast kept the good wine until now.
John 14:27
Peace I leave with you, my peace I give unto you: not as the world giveth, give I unto you. Let not your heart be troubled, neither let it be afraid.
Matthew 26:26-28
26 And as they were eating, Jesus took bread, and blessed it, and brake it, and gave it to the disciples, and said, Take, eat; this is my body.
27 And he took the cup, and gave thanks, and gave it to them, saying, Drink ye all of it;
28 For this is my blood of the new testament, which is shed for many for the remission of sins.
29 But I say unto you, I will not drink henceforth of this fruit of the vine, until that day when I drink it new with you in my Father's kingdom.
John 3:16 For God so loved the world, that he gave his only begotten Son, that whosoever believeth in him should not perish, but have everlasting life.
Physical Touch
Luke 8:51-52&54-55
51 And when he came into the house, he suffered no man to go in, save Peter, and James, and John, and the father and the mother of the maiden.
52 And all wept, and bewailed her: but he said, Weep not; she is not dead, but sleepeth.
54 And he put them all out, and took her by the hand, and called, saying, Maid, arise.
55 And her spirit came again, and she arose straightway:
Luke 5:13
12 And it came to pass, when he was in a certain city, behold a man full of leprosy: who seeing Jesus fell on his face, and besought him, saying, Lord, if thou wilt, thou canst make me clean.
13 And he put forth his hand, and touched him, saying, I will: be thou clean. And immediately the leprosy departed from him.
Matthew 8:14&15
14 And when Jesus was come into Peter's house, he saw his wife's mother laid, and sick of a fever.
15 And he touched her hand, and the fever left her: and she arose, and ministered unto them.
Mark 10:13
13And they brought young children to him, that he should touch them: and his disciples rebuked those that brought them.
14 But when Jesus saw it, he was much displeased, and said unto them, Suffer the little children to come unto me, and forbid them not: for of such is the kingdom of God.
15 Verily I say unto you, Whosoever shall not receive the kingdom of God as a little child, he shall not enter therein.
16 And he took them up in his arms, put his hands upon them, and blessed them.