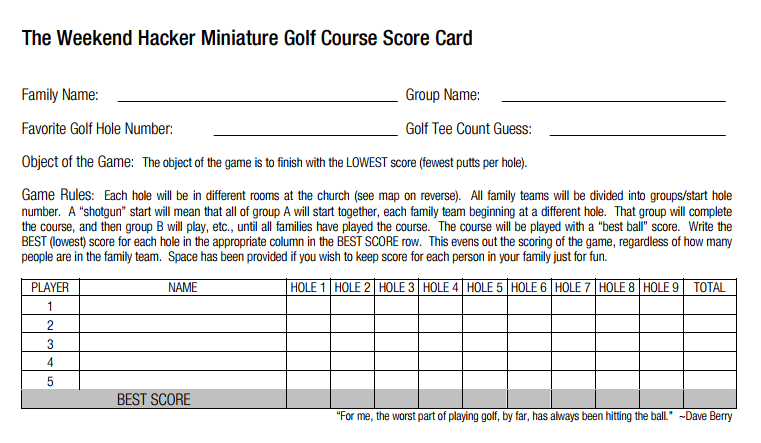 Shared by Kristine H
This was an idea I borrowed from another AC chair in Lewiston, Idaho – thanks Judy C.!
This would work for a YW, Activity Day Girls or other Daddy/Daughter event.
For this activity, we created a miniature golf course at the ward.  9 teams of dads/daughters created holes from household items that were easy enough for anyone to play (18 months and older).  Each hole was in different rooms at the church.  All family teams were divided into groups/start hole number. (see attached score card)  A "shotgun" start meant that all of group A (group name) started together, each team at a different hole.  That group completed the course, and then group B played, etc.  The course was played with a "best ball" score.  This meant that the best score in the family team at the hole was the score written on the score card.  That evened the game out, regardless of how many people were in the family team.  The cultural hall was the Clubhouse and Grill (see map).  Dinner was hot dogs, chips, etc.  Entertainment was provided for those teams not playing the course.  Signs were up at the main entrances welcoming the players to the "Weekend Hacker Mini Golf Course".
9 Dad/Daughter teams created one of our nine mini golf holes.
There were big prizes for the winning team of the tournament and the hole competition winning team (every team votes on their favorite hole) – free rounds of real golf for the entire family which were donated.
We asked for teams to create the golf holes.  EVERY one of the holes was amazing!!!  Here are a few ideas:
Potted Plants (course outlined by potted plants and potting materials)
Garden equipment (hoses, rain gutters, etc.)
Candy Mountain (built entirely out of paper and candy)
Cannery Row (built entirely out of cannery cans)
Tube Shoot (single elbow tube popped golf ball into a bucket – way harder than it sounds.  The girls got it, not the dads so much…)
Sports Ball Mania (course outlined by chairs with various ball obstacles)
The shotgun start worked fairly well.  We assigned 9 families to start playing all at once (A-1, A-2, A-3, etc.) Each family started at their assigned hole number (group A, hole 1).  They continued in sequential order until the whole group had played every hole.  For those teams NOT golfing, we had assorted activities for them.  Once group A was back, group B was invited to play golf, etc.  See attached map of holes.  Holes were marked on the corresponding door with a flag made out of craft foam.  Putters were purchased from the DI, borrowed from participants, and donated from a local golf course's lost and found.  2 putters were at each hole, and stayed with the hole.  We added a max number of 10 putts per person per team, as some of the harder holes got clogged up.
1.  Guess the T's competition (jar of tees, each family had to guess how many they though were in the jar, winning family received a bag of chocolate golf balls)
2.  Name that golfer (match photo of golfer to name of golfer:  Tiger Woods, Jack Nicklaus, etc.  Families got mini candy bars equivalent to the number of correct answers.)
3.  Goofy Golf Terms match (see attached answer sheet, you'll want to mix up the answers).  Families got mini candy bars equivalent to the number of correct answers.)
4.  Played "Goofy's World of Sports" video
The AC committee provided the pink lemonade, condiments, dinnerware and jello.  The participants were asked to bring a pkg each of hot dogs and buns, OR 2 bags of chips, OR dessert for 24.  You may want to ask for double the number of sign ups for hot dogs, we ran out.  Everyone got one-two hot dogs, but some of those dads were still a little hungry…
The tables were decorated with white table cloths with a stripe of a cut green plastic tablecloth down the center.  Half of the tables had galvanized buckets filled with quickcrete sand.  This sand was heavy enough to keep the flags upright.  Each bucket had a flag made of a dowel and craft foam.  We cut the craft foam into triangles and then put 5 hole punches along the vertical edge.  Then we wove the 3/8″ X 36″ dowel in and out of the holes.  The tables looked GREAT!
Our budget was 100.00, most of which was spent on the food, dinnerware and invitations (1/4 sheet with text and golf tee inserted on one side).
The galvanized buckets were emptied and refilled with candy.  The teams who invented the holes were each given one of the candy buckets as a thank you.
We had an impressive turn out for an activity planned around just a portion of our ward (we had a mother/son activity about 6 weeks later).  The dads were heroes for their daughters, and the dads and daughters of all ages said they had a fun time.